Rick Moranis Net Worth: A Journey of Talent and Success
Rick Moranis, a Canadian actor, comedian, and musician, has had a remarkable career in the entertainment industry. Known for his versatile acting skills and unique comedic timing, Moranis has won the hearts of audiences worldwide. Throughout his career, he has starred in several successful films and television shows, leaving a lasting impact on the industry. Naturally, his talent and success have led to substantial financial gains. In this article, we will delve into Rick Moranis' net worth, exploring his journey to fame, major accomplishments, and the factors contributing to his financial success.
Early Life and Career Beginnings:
Rick Moranis was born on April 18, 1953, in Toronto, Ontario, Canada. From a young age, he showed a keen interest in comedy and performing arts. Moranis began his career in the late 1970s, joining the popular Canadian sketch comedy show "Second City Television" (SCTV). This marked the beginning of his journey into the world of entertainment .
Breakthrough Success:
Moranis gained widespread recognition and a loyal fan base through his portrayal of iconic characters on SCTV. However, it was his transition to the big screen that truly catapulted his career. In 1983, he starred in the cult classic comedy film "Strange Brew" alongside Dave Thomas. The movie became a huge hit and helped solidify Moranis' comedic talent.
Major Film Successes:
Following the success of "Strange Brew," Rick Moranis starred in a series of commercially successful films that further cemented his status as a comedic genius. One of his most memorable roles was that of Louis Tully in the 1984 blockbuster hit "Ghostbusters." The film was a massive success and remains a beloved classic to this day. Moranis reprised his role in the 1989 sequel, "Ghostbusters II."
In addition to the "Ghostbusters" franchise, Moranis achieved great success with his role as Wayne Szalinski in the "Honey, I Shrunk the Kids" series. The first film, released in 1989, grossed over $222 million worldwide, making it a box office sensation. The success of the original film led to two sequels, "Honey, I Blew Up the Kid" (1992) and "Honey, We Shrunk Ourselves" (1997)..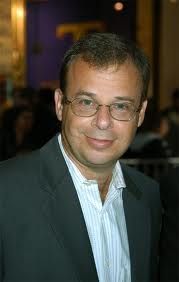 Notable Collaborations:
Throughout his career, Rick Moranis had the opportunity to collaborate with renowned filmmakers and fellow actors. One notable collaboration was with Mel Brooks in the 1987 comedy film "Spaceballs." Moranis played the role of Dark Helmet, a character that became an instant fan favorite.
Another memorable collaboration was with Steve Martin in the 1987 comedy "Roxanne." The film received critical acclaim and showcased Moranis' ability to portray diverse characters beyond the realm of slapstick comedy.
Music Career:
Aside from his acting prowess, Rick Moranis is also a talented musician. In 2005, he released a country music album titled "The Agoraphobic Cowboy," which featured humorous and satirical songs. The album received positive reviews and further showcased Moranis' creative range.
Personal Life and Hiatus:
In the early 1990s, Rick Moranis experienced a personal tragedy when his wife, Ann Belsky, passed away due to breast cancer. To prioritize his family and focus on raising his children, Moranis decided to take a step back from his acting career. He significantly reduced his on-screen appearances and shifted his focus to voice acting and other projects that allowed for a more flexible schedule.
Return to the Spotlight:
After a long hiatus, Rick Moranis made a highly anticipated return to acting in 2020. He reprised his role as Wayne Szalinski in the Disney+ sequel series, "Shrunk," which is set to be released in 2023. Moranis' comeback was met with immense excitement from fans around the world, eager to see him back on the screen.
Rick Moranis Net Worth:
Given his illustrious career and numerous successes, Rick Moranis has amassed a considerable net worth. As of 2021, his estimated net worth is reported to be around $12 million. However, it's worth noting that this figure may have fluctuated due to various factors such as investments, endorsements, and recent projects.
Conclusion:
Rick Moranis' net worth is a testament to his remarkable talent, hard work, and enduring popularity. From his early beginnings on SCTV to his breakout success in movies like "Ghostbusters" and "Honey, I Shrunk the Kids," Moranis has left an indelible mark on the entertainment industry. Despite his hiatus from the spotlight, his return to acting has been eagerly awaited by fans worldwide. Rick Moranis' net worth is not only a reflection of his financial success but also a tribute to his contributions to the world of comedy and entertainment.