The Time in Seoul:
Time is a fascinating concept that shapes our lives and the world around us. In the bustling metropolis of Seoul, the passage of time is palpable as it intertwines with the city's vibrant history, cultural heritage, and rapid modernization. From ancient palaces to towering skyscrapers, Seoul's dynamic chronology tells a captivating story of transformation and continuity. In this article, we will delve into the rich tapestry of time in Seoul, exploring its historical landmarks, cultural traditions, and the ever-evolving nature of this remarkable city.
Ancient Roots:
Seoul's history dates back over two thousand years, with roots in the ancient Korean kingdom of Baekje. The city's foundation can be traced to 18 BCE when King Onjo established the Baekje capital, Wiryeseong. Exploring Seoul's ancient roots means visiting the fascinating archaeological sites such as the Seoul City Wall and Gyeongbokgung Palace. These remnants of the past offer glimpses into the city's early development and provide a sense of the historical context that shaped modern-day Seoul.
Palaces and Temples:
Seoul is home to numerous palaces and temples, each with its own unique story to tell. Among them, Gyeongbokgung Palace stands out as a symbol of the Joseon Dynasty and offers visitors a glimpse into the royal court life of ancient Korea. The changing of the guard ceremony at Gwanghwamun Gate is a must-see spectacle that echoes the past. Additionally, the serene beauty of Buddhist temples like Jogyesa and Bongeunsa provides a serene escape from the bustling city, inviting contemplation and reflection on the passage of time.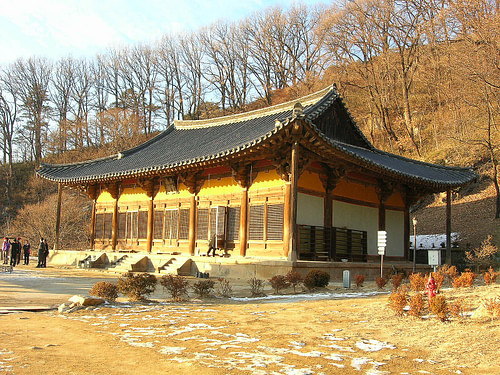 Hanbok and Traditional Culture:
Traditional Korean culture has withstood the test of time, and in Seoul, it finds expression in the vibrant world of hanbok and traditional arts. Hanbok, the traditional Korean attire, embodies elegance and grace, reflecting the aesthetics of different eras. Visitors can don hanbok themselves and wander through the streets of Bukchon Hanok Village, a neighborhood where traditional Korean houses (hanok) have been preserved. Exploring this district feels like stepping back in time, with its narrow alleys, traditional teahouses, and glimpses of the past in every corner.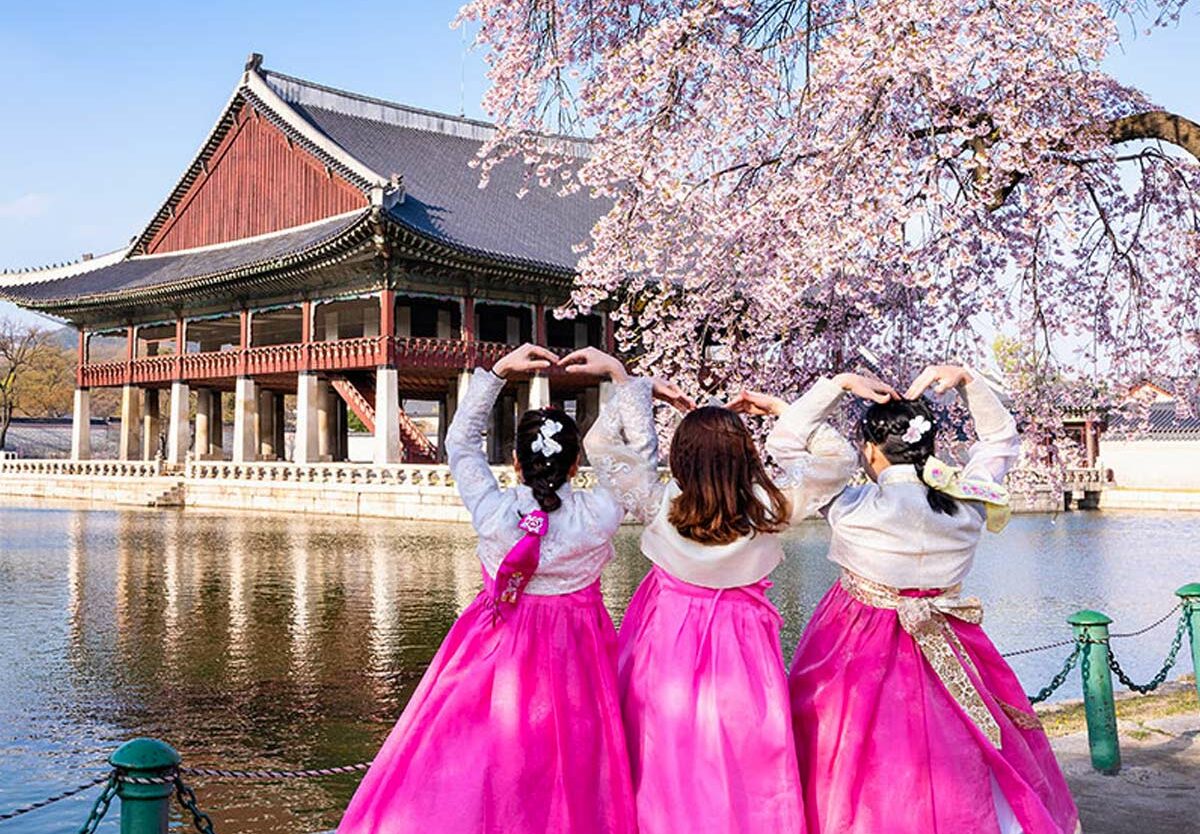 Modern Marvels:
Seoul's dynamic chronology isn't confined to the past; it is equally vibrant in the present. The city's rapid modernization is evident in its towering skyscrapers, futuristic architecture, and advanced technology. The iconic N Seoul Tower offers panoramic views of the city, where the contrast between historical landmarks and contemporary structures is striking. Shopping districts like Myeongdong and Gangnam showcase Seoul's modern lifestyle, where fashion, entertainment, and technology converge to create a unique experience for residents and visitors alike.
Culinary Delights:
Exploring the passage of time in Seoul wouldn't be complete without delving into its culinary scene. Korean cuisine has a deep-rooted history, and traditional dishes like kimchi, bulgogi, and bibimbap have been enjoyed for centuries. However, Seoul's culinary landscape is also a testament to the city's continuous evolution. Michelin-starred restaurants, street food stalls, and trendy cafes coexist, offering a diverse range of flavors that reflect both tradition and innovation. Sampling Seoul's culinary delights is like embarking on a gastronomic journey through time.
Festivals and Celebrations:
Throughout the year, Seoul comes alive with vibrant festivals and celebrations that showcase the city's rich cultural heritage. Events such as the Bosingak Bell-Ringing Ceremony on New Year's Eve and the Lotus Lantern Festival during Buddha's Birthday are deeply rooted in tradition, while the Seoul International Fireworks Festival and the Seoul Fashion Week represent the city's modern spirit. Attending these festivities allows visitors to immerse themselves in the rhythm of Seoul's ever-changing timeline.
Conclusion:
Seoul's dynamic chronology is a captivating journey through time, blending ancient traditions with modern innovation. The city's historical landmarks, cultural heritage, and rapid modernization provide a unique perspective on the passage of time. Exploring Seoul's ancient roots, palaces, temples, traditional culture, modern marvels, culinary delights, and vibrant festivals reveals a city that embraces its past while moving confidently into the future. As the hands of time continue to move, Seoul's dynamic chronology continues to shape its identity, making it a destination that is both timeless and ever-changing. Wiki
Q1: What are some of the must-visit historical landmarks in Seoul?
A1: Seoul is home to several iconic historical landmarks. Gyeongbokgung Palace, Changdeokgung Palace, and Bukchon Hanok Village are must-visit destinations that offer glimpses into Seoul's rich history and traditional architecture.
Q2: How can I experience traditional Korean culture in Seoul?
A2: To experience traditional Korean culture, you can visit places like Jogyesa Temple, where you can witness Buddhist traditions and take part in meditation sessions. Exploring Insadong, a neighborhood known for its traditional arts and crafts, is also recommended.
Q3: What are some of the modern attractions in Seoul?
A3: Seoul's modern attractions include the N Seoul Tower, which offers breathtaking city views, and vibrant shopping districts like Myeongdong and Gangnam. The Dongdaemun Design Plaza, with its futuristic architecture and innovative exhibitions, is also worth a visit.
Q4: Are there any festivals or events that showcase Seoul's dynamic chronology?
A4: Yes, Seoul hosts various festivals and events that celebrate its cultural heritage and modern spirit. The Lotus Lantern Festival, held during Buddha's Birthday, and the Seoul International Fireworks Festival are popular events that highlight the city's vibrant atmosphere.
Q5: What are some recommended traditional Korean dishes to try in Seoul?
A5: Seoul offers a wide range of traditional Korean dishes. Kimchi, bulgogi (marinated grilled beef), bibimbap (mixed rice with vegetables and meat), and samgyeopsal (grilled pork belly) are among the must-try delicacies that showcase the flavors of Korean cuisine.
Q6: How can I best explore the passage of time in Seoul?
A6: To explore Seoul's dynamic chronology, it is recommended to visit both historical landmarks and modern attractions. You can start with palaces like Gyeongbokgung and then venture into neighborhoods like Bukchon Hanok Village. Additionally, immersing yourself in the local cuisine and participating in festivals will give you a comprehensive experience of Seoul's passage of time.
Q7: Are there any guided tours available to learn more about Seoul's history?
A7: Yes, there are guided tours available in Seoul that focus on its historical aspects. These tours are led by knowledgeable guides who provide insights into the city's history, architecture, and cultural significance.
Q8: How long does it take to explore Seoul's dynamic chronology?
A8: The duration of exploring Seoul's dynamic chronology depends on individual preferences and the depth of exploration. It is recommended to allocate at least a few days to visit the major historical landmarks, experience traditional culture, savor the local cuisine, and attend festivals or events.
Q9: Can I rent hanbok in Seoul to experience traditional attire?
A9: Yes, there are numerous rental shops in Seoul where you can rent hanbok. These shops offer a wide selection of hanbok designs and sizes, allowing visitors to dress up and immerse themselves in the traditional Korean culture.
Q10: How can I keep up with the latest events and festivals happening in Seoul?
A10: To stay updated with the latest events and festivals in Seoul, you can check the official Seoul Tourism Organization website, follow their social media accounts, or consult local event listings and travel guides.
Read Also: Discovering Min Yoongi's Age: Unveiling the Mystery Behind the Suga